Psalm 119
52 Weeks of Life-Giving Bible Verse Devotions to God | by Sarah Keith
(For All Ages)
Your purchases and donations to the site help to distribute our ministry resources to churches across the world.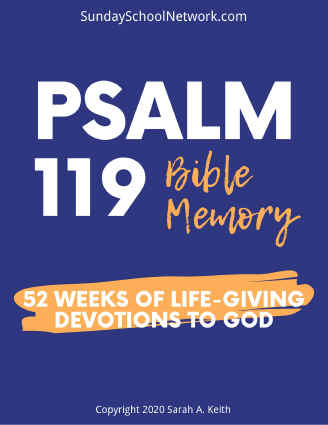 Click the cover to print out our FREE PDF lesson on Psalm 119.

Nothing in life is more important than knowing God and trusting in him. As Christian educators and parents, we must help children to obey the imperative, "I have hidden your word in my heart, that I might not sin against you" Psalm 119:11 (NLT). This important verse is from Psalm 119, the longest chapter in the Bible, containing 176 verses, and 22 sections. Each section begins with one of the 22 letters of the Hebrew alphabet, starting with the Hebrew letter "Aleph" and ending with the letter "Taw" or "Tav." It is an A-Z instruction, so to speak, of God's life-giving, law-keeping devotions for his people.

Psalm 119 is the perfect corrective for today's society where truth is relative, God's laws are often mocked, and where lawlessness is celebrated and splashed daily across our televisions, phones, and computer screens. Children must learn early and often that God has a standard for his people and that his ways are best for their lives. Children must be saturated in God's Word, so when the day of evil comes in their lives, as the Apostle Paul writes, they are able to stand! Because our struggle is not against flesh and blood, but against the rulers, against the authorities, against the powers of this dark world and against the spiritual forces of evil in the heavenly realms. (Ephesians 6: 10-18)

Apart from Jesus Christ, we do not desire to obey God's ways, precepts, or statutes. Thankfully, the Holy Spirit gives us the will power to want to obey God. King David reminds us to delight in the LORD, so that His desires become our desires (Psalm 37:4)! How amazing and miraculous is that? Jesus died on the cross to take the punishment we deserve for sinning against Holy God. When we die, our spirits—our true selves—will live eternally with God or separated from him. The good news is that Jesus died and rose from the dead to give us eternal life with God. Have you asked Jesus to be your Savior and Forever Friend? If not, do it today! Jesus calls us to repent, which means to turn from sin, those things we do wrong, ask him for forgiveness, and trust him as your Savior. God's word says, "Everyone who calls on the name of the Lord will be saved" Romans 10:13.

In the link provided, below, there are 52 Bible verses, with each section represented from Psalm 119. There are also two translations from which to choose, the King James Version (KJV) and various modern versions*. Encourage kids and families to read one verse at mealtime and at bedtime, reading the same verse each day for one week at a time, with the goal of memorizing it by the end of the week. Feel free to copy and paste the desired text to your lesson plan. Encourage families to read and memorize the Bible verses together.

I pray this lesson will be life changing to those who receive it!
May God bless your ministry to children and youths,
Sarah Keith

Download our FREE Life-Giving Devotions to God. If you download it, I'd love to receive your feedback!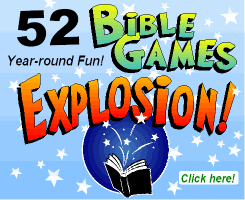 DON'T miss the Hook-Em section of our Bible Games Explosion book for creative ways to help kids memorize Scripture!

Copyright 2020 Sarah A. Keith – SundaySchoolNetwork.com



Subscribe to our Newsletter - Learn More